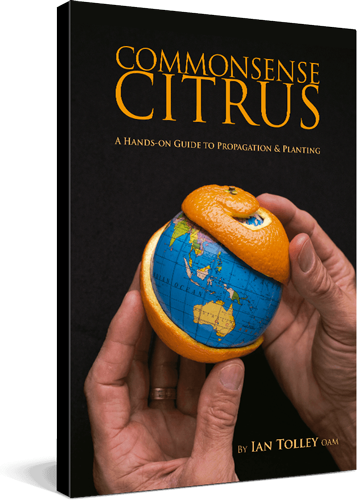 A HANDS-ON GUIDE TO PROPAGATION & PLANTING
This book is a compendium of observations and practises accumulated over a lifetime in horticulture, particularly concentrating on my passion in citrus experiences. I have written this book with home garden enthusiasts, students of citri-culture and commercial growers in mind, as a factual, interesting and useful guide to the world of citrus.
Tolley's Nurseries Pty Ltd is located in Renmark South Australia and has operated for 3 generations as a family company.
Ian Tolley the Managing Director is a specialist and global expert in seed production, seedling production, orchard planning establishment and management. He was awarded an OAM, Medal of the Order of Australia, for his lifelong services to development of the Australian citrus industry. Ian is also a Fellow of the Winston Churchill Memorial Trust.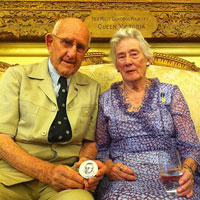 Noelle Tolley the Sales Manager managed the development of Tolley's containerized citrus nursery and has participated in many international horticultural congresses. She was awarded the AM as a Member of the General Division of the Order of Australia for services to the Australian horticultural industry, and business women.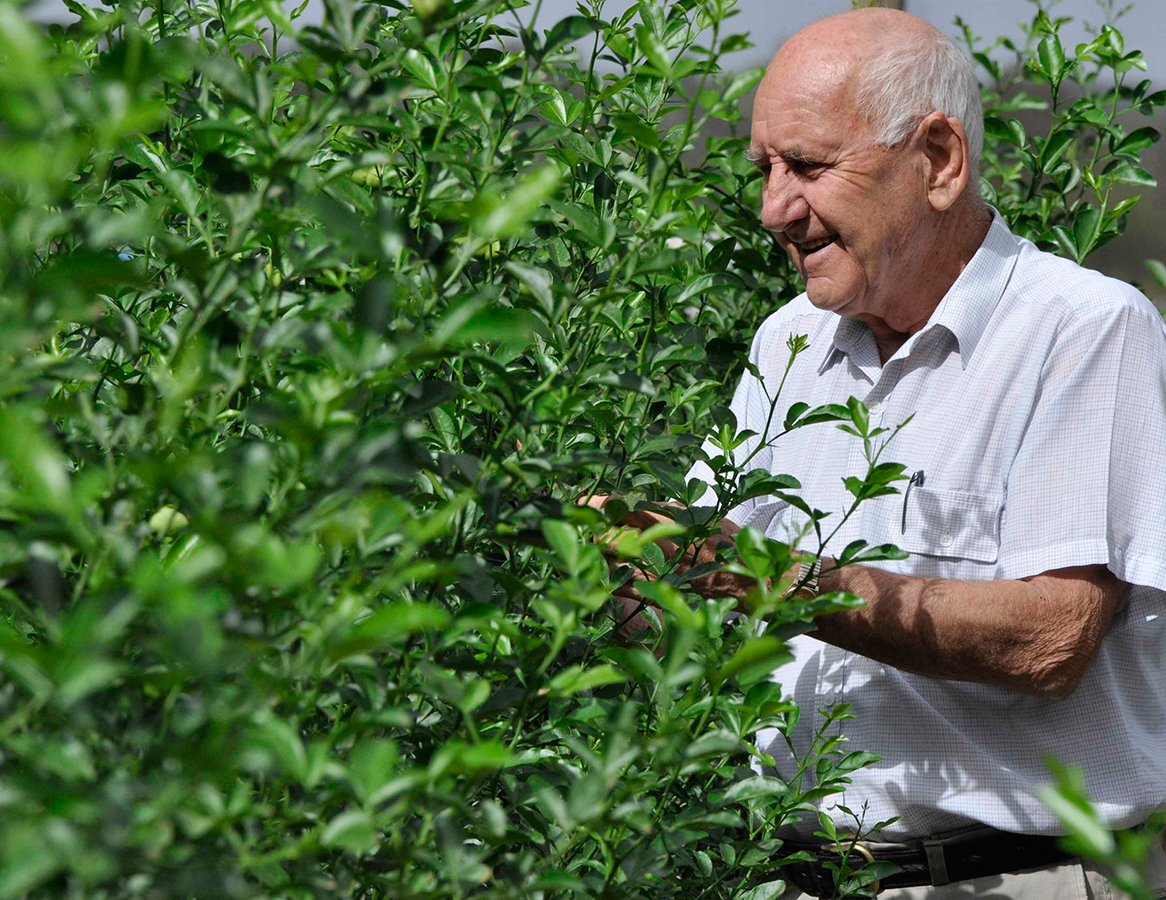 We have provided specialist consultancy services globally, in the USA, South Africa, Fiji, Indonesia, Malaysia, Egypt and Thailand to name a few key areas.
Ian advises on:
• Citriculture and general horticulture
• Orchard and nursery project design, evaluation and advice
• Orchard field evaluations and reports including for legal opinions
Due to the popularity of his Books and ABC Television and Radio programs Ian receives an extraordinary amount of telephone calls and email questions on horticultural issues.
If you have a question we kindly ask you NOT to call Ian in the first instance, but suggest you browse through the Frequently Asked Question list to see if your requirement for advice is already covered.
If it is not, then kindly send your customized request via our CONTACT form below. Ian will provide you with a quotation for consultation on your specific issue and upon receipt of your payment will arrange a consulting session at a convenient time.
Browse through this list of Frequently Asked Questions (FAQ) and download the answers for a nominal fee. Questions are grouped in the subjects most commonly addressed to Ian. These issues are addressed in detail in Ian's flagship book 'Commonsense Citrus'.
Climatic & Weather Effects
Q: Last winter I planted a new grapefruit tree in my garden. It's not looking well – what could the problem be?
Q: Can I grow citrus in cold coastal climates?
Q: I live in a cold climate area and my Lisbon lemon has yellow leaves. What can I do?
Soil & Media
Q: Is pH important in potting media for citrus, and is there an easy way to determine the pH?
Q: I hear a lot of suggestions about using potting or growing media instead of soil. What are the essential differences between potting media and soil?
Q: My soil is very alkaline and my citrus trees show many deficiencies, with all kinds of mottling in the leaves. What can I do?
Q: Media to raise citrus in a tube – can fresh sawdust be used to raise citrus seedlings for budding?
Varieties
Q: Where can I source the famous Amalfi lemon? I really want to be able to grow them like they do on the Amalfi coast in Italy?
Q: What varieties should I plant to give me a range of year-round production?
Q: I have what I believe is a kumquat tree but someone told me it's actually called a calamondin. How do I tell the difference?
Q: I have some Poorman Orange seedlings. Can I plant them out and will they crop?
Q: You recommend the grafting/budding union be 25-30cm above the soil or potting media level, why is this so important?
Q: I've got a valuable old citrus tree past its productive life that I want to re-propagate. How should I do this?
Budding & Grafting
Q: Can I change my Blood orange tree to a lime tree by budding or grafting?
Q: Are there any incompatibility problems when trees are budded or grafted?
Q: Can I put more than one variety on my citrus tree?
Q: Can I use T-buds on my large citrus seedlings to produce my new garden trees?
Moving a Citrus Tree
Q: Can I move my small orange tree to a new place in the garden?
Tub-Grown & Container Citrus Care
Q: I was told that citrange and citrumelo rootstocks were unsuitable for tub growing as they were not dwarfing rootstocks. Is this correct?
Q: I have little space in my backyard and I do want to plant several varieties. Are tubs an option?
Q: I'm repotting my kumquat in a tub, but notice there are large holes in the old potting media. What is the problem?
Q: My four year old kumquats in tubs are not well. What do I do to fix this?
Q: Are slow release fertilizers any good for citrus?
Q: I've planted a lemon in a tub. What do I do now to make sure it grows well?
Q: I've got a citrus tree growing in a tub. How do I know if the tub is draining properly and not rotting the tree's roots?
Watering
Q: Is there a simple way to check when citrus trees need watering?
Q: The skin of my navel fruit is splitting before it ripens. What happened?
Q: I have citrus trees on the farm and we are in the middle of a drought. I want to save water. What is the minimum my trees need to stay alive?
Wind Protection
Q: Do I require wind protection for my trees, and garden?
Fertilising
Q: How do I fertilise my citrus?
Q: I seem to spend all my time fertilizing my potted citrus plants. Is there a better way?
Q: What time of year should I stop fertilising my citrus tree?
Fruit Set & Cropping
Q: The fruit on my orange trees are sour. Why?
Q: My two-year-old mandarin has dropped its flowers. Why?
Q: My blood orange has a second crop immediately following my normal crop. What should I do?
Q: Some years ago I bought a blood orange. It does fruit but the colour of the flesh is disappointingly pale. What can I do?
Q: My citrus is dropping fruit. I know I have very alkaline soil – is this part of the problem?
Q: I had a beautiful flowering on my citrus trees this spring, but now most of the flowers are on the ground. Will I get a crop this year?
Q: How can I spread my lemon harvest over the year?
Q: My Dancy mandarin crops every second year. What can I do about it?
Q: I have a Valencia that normally crops between early Summer to Autumn, but now I have an extra crop in the middle of Winter. What is happening? Will I have the same next year?
Pest & Disease Control
Q: I have been told that I have a nematode problem in my garden. What can I do?
Q: Is there an organic treatment for aphids on my lemon tree?
Q: The roots on my citrus are black and slimy. When I rub them, the outer cover slips off and the smell is very unpleasant. I have been told it may be Armillaria root rot. What can I do?
Q: My tree is infested with mealybugs. How do I get rid of them?
Q: Is there a freely available cheap organic pesticide for my citrus trees?
Q: My tree is covered with a sooty mould. What should I do?
Q: What is causing the new leaves on my citrus trees to roll and curl?
Q: I have earwigs everywhere. What can I do?
Q: My 15-year old lemon tree is dying and the bark has changed to a bronze colour. What should I do?
Q: I have ants all over my lemons. Why?
Q: I have an insect or a mould that looks like fine cotton waste growing on my citrus. It looks awful: What should I do?
Q: My lemon tree has caterpillars all over it. What can I do?
Q: Snails are climbing all over my orange tree, chewing leaves and fruit. What can I do?
Pruning & Shaping
Q: How should I prune my small citrus?
Q: Do I really need to prune my citrus tree?
Q: I have an old citrus tree that is not cropping. Can I renovate the tree by pruning and fertilising?
Q: My Washington navel tree is now too big. When can I make it smaller?
Q: I have a six-year-old Valencia tree with root suckers coming up everywhere near the butt. What should I do with them?
Q: I purchased a 'duo' citrus tree, and put wood chips around it, but not on the stock. Now I find I have large toadstools growing near the rootstock. What is the problem?
TOLLEY'S NURSERIES
Mailing Address:
PO Box 2,
Renmark 5341,
South Australia
Nursery Address:
152 Tarcoola Street,
Renmark 5341,
South Australia